Getting married is a super special and wonderful time in anyone's life. Every moment of a wedding is so valuable that sometimes words can't even capture the feeling. And guess what? When it's time for those extra-special moments, like weddings, people want the most amazing jewellery to go with their beautiful bridal outfits. If you're on the lookout for stunning bridal jewellery, you should totally check out Hazoorilal Jewellers. They've got just what you need to make your wedding look even more fabulous!
Why Go for Gold?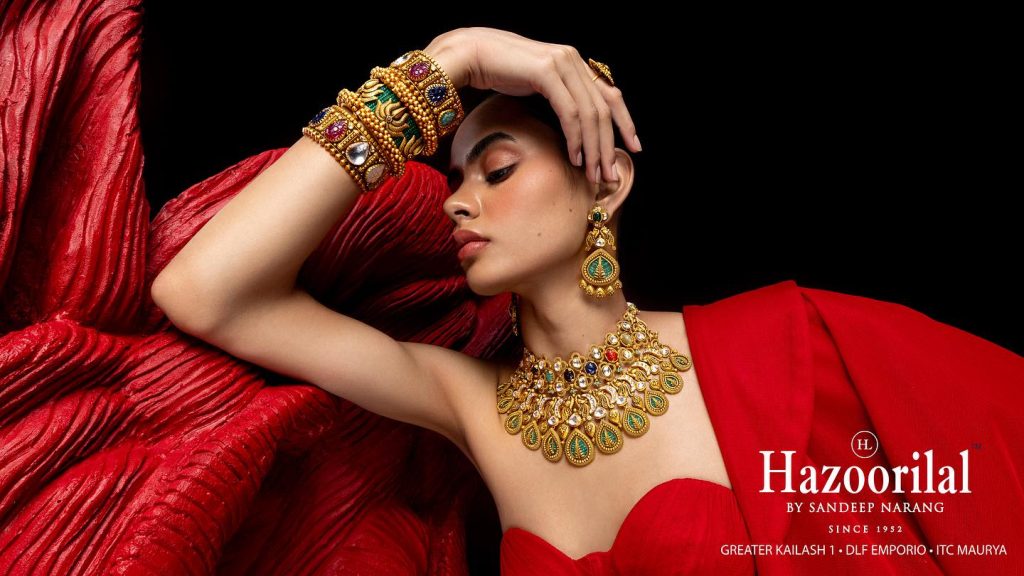 Gold jewellery isn't just pretty; it's also special for many reasons. Women love wearing gold on big days like weddings and engagements because it's seen as a sacred metal. But it's not just for looking gorgeous; gold is like a secret treasure for the future. It's a smart investment that can help you out financially later on. And here's a cool thing: gold isn't just shiny; it also has this natural power that can bring good vibes to your life. That's why gold isn't just in our jewellery; it's in our hearts too.
If you want to explore the gold collection by Hazoorilal for your wedding, then this blog will help you choose the perfect jewellery pieces.
Here are the top 3 must-haves for a wedding trousseau:
Gold Necklace: No bridal look is complete without a stunning gold necklace. Whether you opt for a traditional lehenga or an elegant saree, a gold necklace adds the perfect touch of glamour. Check out the gold necklace from Hazoorilal for expertly crafted pieces that are both unique and elegant.
Gold Earrings: Elevate your overall look with a pair of gorgeous gold earrings. They're the perfect complement to your bridal attire, adding a touch of sophistication and sparkle. Buy gold earring from Hazoorilal to get a stunning look.
Gold Bangles: Complete your ensemble with the timeless charm of gold bangles. These beautiful accessories add a traditional and graceful element to your wedding trousseau, making you look absolutely radiant on your special day. Explore gold bangles by Hazoorilal to embellish your wrist with shine.
Hazoorilal Jewellers: Look gorgeous in every moment
Choosing the perfect jewellery pieces is easy because of the digital revolution. Now you just need to explore the website of Hazoorilal Jewellers and complete a few steps to grab stunning jewellery. If you want to explore the gold collection by Hazoorilal, visit their easy-to-navigate website now! They have numerous intricate designs crafted by experienced craftsmen. Thus, it's time to celebrate your once-in-a-lifetime moment with a regal jewellery collection.