When it comes to adorning oneself with exquisite and timeless jewellery, Hazoorilal Gold Jewellers in Delhi, India, stands as a renowned name that reflects luxury, elegance, and impeccable craftsmanship. For generations, Hazoorilal Jewellers have been crafting masterpieces in the world of jewellery, and their legacy continues to shine brightly.
Hazoorilal Jewellers – A renowned name
In the heart of India's capital, Delhi, Hazoorilal Gold Jewellers has been a shining example of sophistication for jewellery connoisseurs. With a history spanning over seven decades, Hazoorilal Jewellers has earned a reputation as one of the most esteemed jewellery houses in the country.
Unparalleled Craftsmanship
Hazoorilal Gold Jewellers in Delhi prides itself on its exceptional craftsmanship. Each piece of jewellery is meticulously handcrafted by skilled artisans who bring to life the dreams and desires of their clients. Whether it's a classic diamond necklace, a traditional Kundan set, or a contemporary gold bracelet, Hazoorilal Jeweller's artisans infuse every creation with their passion and expertise. They understand that jewellery is an extension of one's personality and aspirations. At Hazoorilal Gold Jewellers, craftsmen are encouraged to co-create every jewellery piece in a way that matches the wearer's individuality.
Hazoorilal Gold Jewellery in Delhi, India
The reach of Hazoorilal Jewellers extends far beyond Delhi, as it is celebrated throughout India for its opulent creations. From Mumbai to Kolkata, from Chennai to Jaipur, Hazoorilal Jewellers' gold jewellery designs have left a lasting mark on the hearts of those who appreciate true artistry and beauty.
Hazoorilal Gold Jewellery Designs: Unveiling Timeless Treasures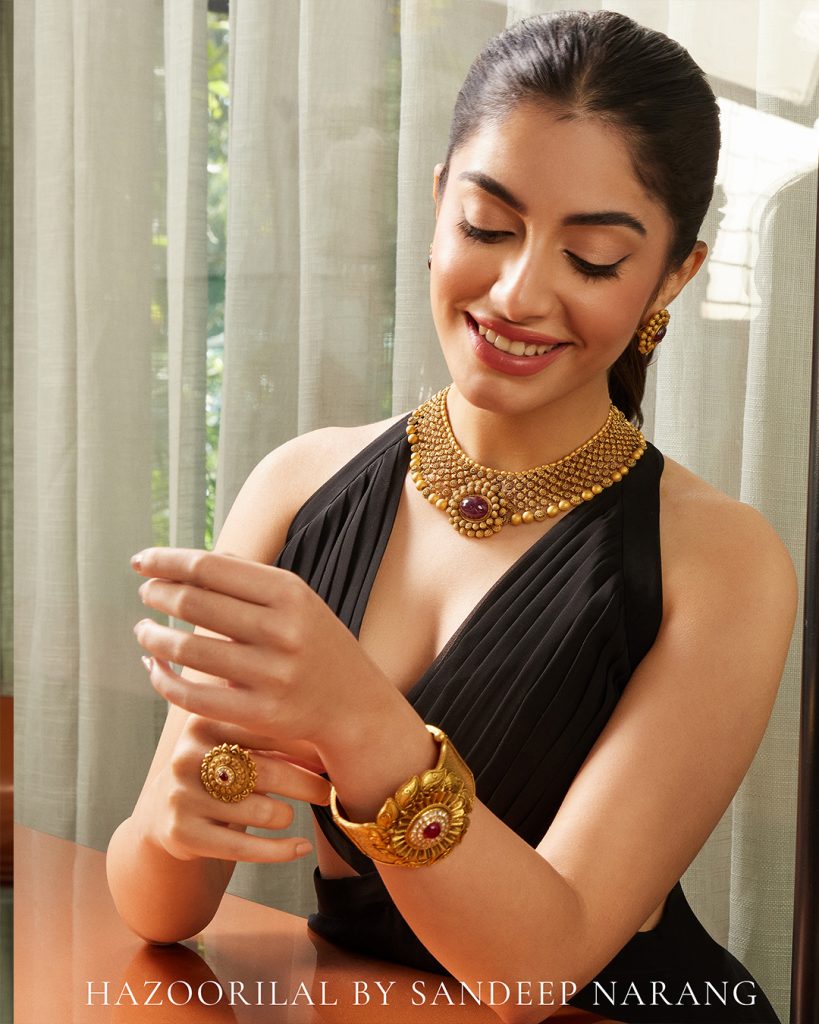 Hazoorilal Gold Jewellery in India showcases a wide range of collections, each telling a different story. Whether it's the resplendent bridal collection, the elegant heritage pieces, or the modern designs for everyday wear, Hazoorilal Jewellers offers something for every occasion.
Hazoorilal Gold Jewellers in Delhi, India, represents the essence of elegance and luxury in the world of jewellery. Their commitment to craftsmanship, customization, and timeless beauty has earned them a special place in the hearts of jewellery enthusiasts not only in Delhi but across the entire nation. With a rich history and a promising future, Hazoorilal Jewellers continues to be a reflection of style and sophistication in the world of gold jewellery.
Visit their flagship store in Greater Kailash to explore their incredible gold jewellery along with diamond, silver, Kundan, and other jewellery collections. You can also visit their Eshop to order your favorite piece of jewellery online.